The Arcadia Public Library's history collection supports the library's mission to collect and preserve materials relating to the cultural and intellectual heritage of the City of Arcadia, California.
Significant holdings include photographs from the Arcadia Tournament of Roses and Santa Anita Assembly Center for the Japanese, U.S. Army Balloon School papers, and a collection of books written by Arcadia authors. Other items focus on Elias DJ. "Lucky" Baldwin, Los Angeles County Arboretum, and Santa Anita Park Racetrack. The history of the City of Arcadia is documented from its incorporation in 1903 and includes information on local government, businesses, and maps.
Holdings currently comprise some 2000 photographs, three file cabinets of newspaper clippings, Arcadia City Directories from 1923 to the present, Arcadia school yearbooks, scrapbooks, Arcadia newspapers on microfilm from 1931 and Arcadia census on microfilm. Most of the collection ranges in date from the 1870's to the present.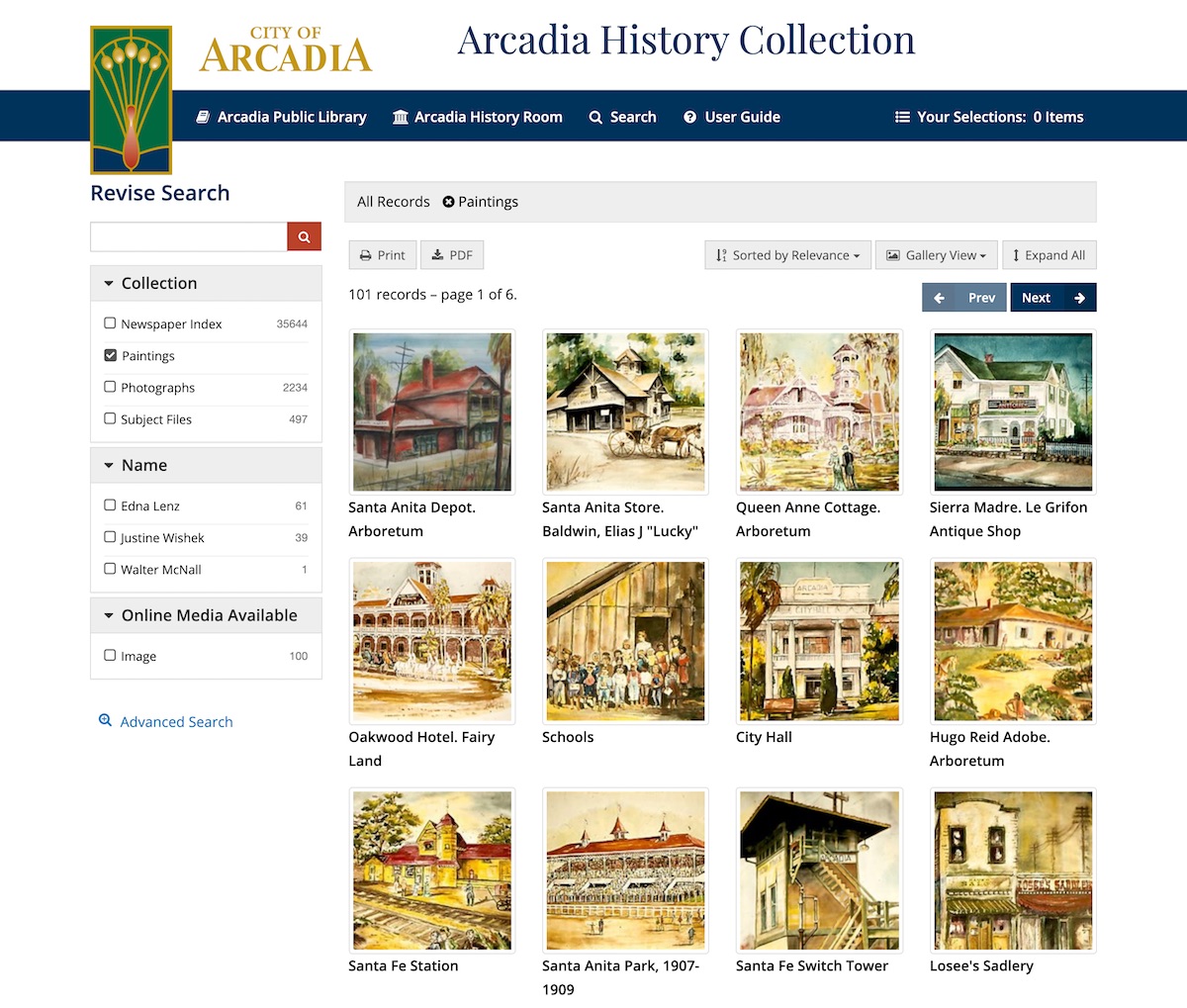 Andornot worked with library and city staff to upgrade their older DB/TextWorks databases, clean up some of the data, and provide access to the results through our DB/TextWorks hosting service. We then developed and host a modern search interface using our Andornot Discovery Interface, available at https://arcadiahistory.andornot.com
The online collection provides access to documents, newspaper clippings, citations, and obituaries, as well as photos and paintings relating to Arcadia.
The home page features a rotating selection of watercolour paintings, as well as Quick Start links to other areas of the collection, ideal for new users. The graphic design of the site was matched to a new website for the library, for a relatively seamless transition from one to the other.