The Arnprior and McNab/Braeside Archives, just outside Ottawa, has hosted their website and online archival collections and exhibits with Andornot for many years. Each year, their online presence has grown with newly digitized resources and new exhibits about their area.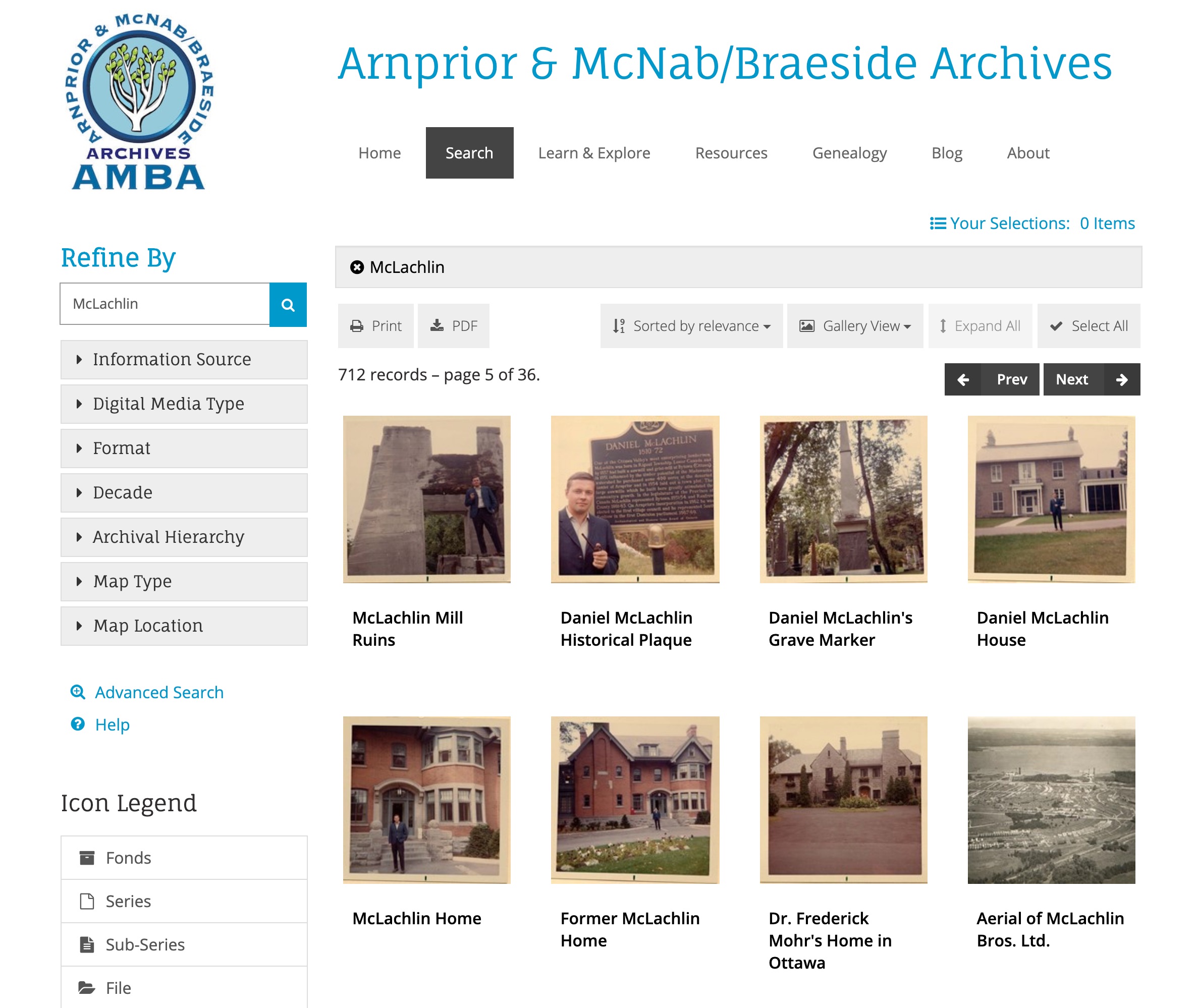 In 2020, thanks to a Library and Archives Canada Documentary Heritage Communities Program grant, they were able to:
upgrade their version of our Andornot Discovery Interface to the latest version, with features such as a rotating carousel of images on the home page, full text search of linked PDFs, and a "More Like This" option to find related resources;
digitize an extensive array of new materials, including 40-50 large format maps, and display those maps in search results using our image zooming feature;
create a new DB/TextWorks database of local historic landmarks and places abd add a mapping feature to the site to allow users to explore these;
upgrade the Umbraco content management system that powers the non-search portion of the site and add a blog feature to keep fresh content flowing more easily; and
refresh the graphic design of their website with a new, modern look.
These enhancements join content added in recent years such as:
The ongoing enhancements and new content added to the Arnprior and McNab/Braeside Archives website and search engine help researchers and residents of the area to better explore their local history.
"I want to thank Jonathan, Peter, and Kathy for all your hard work on this project. It is very, very much appreciated. The new website is what we have been hoping for since we first launched it a number of years ago. And the extra features give us much greater flexibility in the future. And we are very pleased you were able to add the ability to search across the pdfs within this project. Thanks for your patience as you explained things to us and guided us through the project."
-- Irene Robillard, President, Arnprior & McNab/Braeside Archives.
Earlier blog posts about Andornot's work with the Arnprior & McNab/Braeside Archives: