Since 1967, the Bulkley Valley Museum has built up a permanent collection of artifacts and documentary heritage materials that represent the human and natural history of the Town of Smithers, British Columbia, and the surrounding Bulkley Valley.
About 5 years ago, Andornot helped the museum to upgrade their DB/TextWorks-based collection management system, using our Andornot Starter Kits for archives and museum artifacts. We then used the Andornot Discovery Interface (AnDI) to build and host the site.
In 2021, the site was upgraded to the newest version of our Andornot Discovery Interface, with a refreshed graphic design and new features such as:
a 'facet explorer' for searching names, topics and places before conducting a search;
a large image zooming feature to smoothly zoom in and out of maps and plans, without having to download a large image;
a flipbook-style viewer for documents, recreating the experience of paging through a newspaper or magazine;
an audio player for oral history recordings, with individual tracks and a description of them available for viewing. This metadata was captured using the Oral History Metadata Synchronizer and custom-integrated into the new AnDI site;
the Disqus commenting system to encourage discussion of resources in the site, such as to help identify photographs of people whose names have been lost to history; and
upgraded Google Analytics tracking (as described in this blog post) to help museum staff better understand their user community, how they use the site and what they are looking for.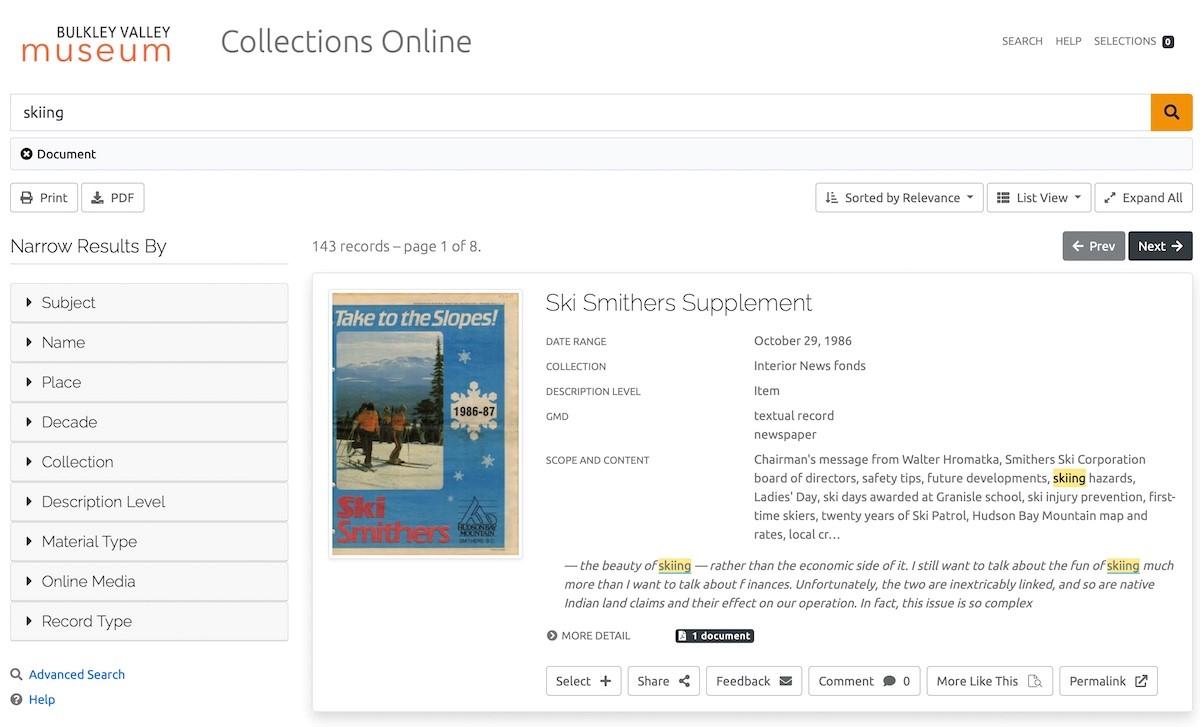 The new version is available at https://search.bvmuseum.org, hosted by Andornot.
The Bulkley Valley Museum was one of the first adopters of our Andornot Discovery Interface, and we're delighted they are one of the first to make use of these new features too.
Whether you're an existing AnDI user, or interested in it for the first time, check out the many examples of public sites built from it in our Project Portfolio, then contact us to discuss how it could make your collections more accessible.